Date: 2019-12-18
Location: Rana Blad – a local newspaper
Type: Interview
There's a new Star Wars movie out this week, and the local newspaper Rana Blad wanted to interview fans. When they asked me, I told them I was unsure if I had the time because I'm busy building a new costume. They thought that sounded interesting and wanted to take a look.
The result was a two-page article about why I like Star Wars, thoughts about the upcoming movie, and of course about the Boba Fett costume. Horse hair, calculator pieces, and thrift store treasure hunting was mentioned.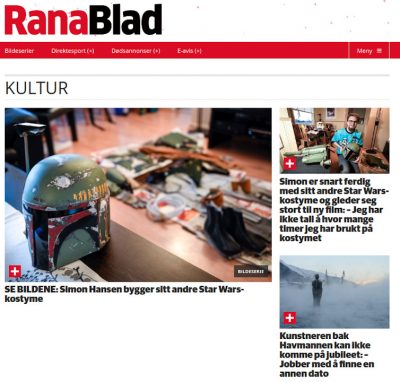 The article was also featured online (paywall): https://www.ranablad.no/star-wars/rana-kino/kultur/simon-er-snart-ferdig-med-sitt-andre-star-wars-kostyme-og-gleder-seg-stort-til-ny-film-jeg-har-ikke-tall-a-hvor-mange-timer-jeg-har-brukt-pa-kostymet/s/5-42-614128