My name is Simon Hansen, and my trooper ID is TK-32700. I am a member of 501st Legion, and I'm stationed in Mo i Rana, Norway. I've been a member since . My costume is a Stormtrooper, A New Hope (Stunt).
What is 501st Legion?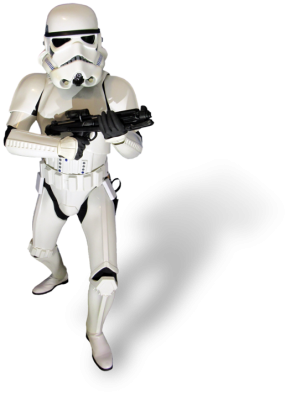 501st Legion is a worldwide costuming organization, founded in 1997. We build authentic-looking Star Wars costumes and do charity work and fan events.
We have local branches all over the world. These branches are called garrisons, squads or outposts, depending on the size of the territory and number of troopers living there. I'm part of Nordic Garrison, which covers Norway, Sweden and Finland.
Every costume category has its own detachment, a group within the Legion that specializes in one type of costume. Stormtroopers are part of the First Imperial Stormtrooper Detachment.
Want an appearance?
Request an appearance in Norway, Sweden or Finland via Nordic Garrison.
Other territories? See 501st.com
How to get a costume?
Take a look at my resource page.
Terminology
If you are unfamiliar with some of the terminology on this site, I have posted a glossary for your convenience.
Follow me
I'm also on various forums:
Disclaimer
Star Wars and its characters and costumes are the intellectual property of Lucasfilm, and I make no claim of copyright. I am not sponsored or endorsed by the 501st Legion, Lucasfilm or their partners. This is a personal website, with content produced by me, celebrating Star Wars and costuming. The content does not necessarily represent the 501st Legion or Lucasfilm.