Sir Alec Guinness was born April 2, 1914. He would have been 104 years old today.
Most of us know Guinness as an actor. He played Obi-Wan Kenobi, the wise old mentor for Luke Skywalker in the original Star Wars trilogy. He is also known for Lawrence of Arabia, Doctor Zhivago and Tinker Tailor Soldier Spy. He took home an Oscar for his performance in The Bridge on the River Kwai.
In 1959 he was knighted by the Queen of the United Kingdom. Next time you see Star Wars, remember that an actual knight is playing a Jedi knight.
Happy birthday, you crazy old wizard!
Other notable April birthdays: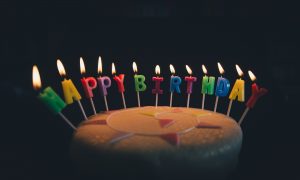 April 3, 1969: Ben Mendelsohn – Director Orson Krennic in Rogue One: A Star Wars Story
April 6, 1937: Billy Dee Williams – Lando Calrissian in the original Star Wars trilogy
April 10, 1992: Daisy Ridley – Rey in the Star Wars sequel trilogy.
April 10, 1929: Max von Sydow – Lor San Tekka in Star Wars: Episode VII – The Force Awakens
April 15, 1969: Tom Kane – Yoda and others in Star Wars: The Clone Wars
April 18, 1930: Clive Revill – voice of the Emperor in the original version of Star Wars: Episode V – The Empire Strikes Back
April 19, 1981: Hayden Christensen – Anakin Skywalker in the Star Wars prequel trilogy
April 20, 1964: Andy Serkis – Supreme Leader Snoke in the Star Wars sequel trilogy.
April 28, 1960: Steve Blum – Zeb Orrelios in Star Wars: Rebels
April 29, 1923: Irvin Kershner – Star Wars: Episode V – The Empire Strikes Back
April 30, 1916: Phil Brown – Uncle Owen in Star Wars: Episode IV – A New Hope